Let P be a fixed point on any differentiable curve, not necessarily a conic. Let Q be a traveling point on the same curve. As Q approaches P, the secant line PQ approaches tangency at P. This is an important concept in calculus. Of course when Q reaches P, there is only one point, so no line can be defined, which is one reason why calculus involves limits.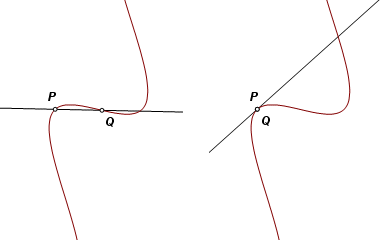 This illustrates Pascal's theorem. Hexagon ABCDEF is inscribed in a conic (a hyperbola in the example). Opposite sides intersect as follows:
AB and DE at J
BC and EF at K
CD and FA at L
Points J, K, and L are collinear, as the red Pascal line shows.